Thank you for your interest in my White Hat Search Engine Optimization special report.
Please fill out the registration form below
and you'll receive an email to confirm your request.
Immediately upon confirming you will be directed
to the download page.
Here"s what you'll be getting...
White Hat Search Engine Optimization
Learn How YOU Can Build
A High RANKING Website
And A High PROFIT Business
Search Engine Optimization is the most cost effective marketing strategy any webmaster or marketer can use. So why does it seem to be so confusing and difficult?
If you're having difficulty with SEO, this special report will simplify it for you - AND give you ideas and tactics that you haven't heard of before.
Using Search Engine Optimization is a no-brainer - it's free! So don't miss your opportunity to grab this free report and boost your profits!
In White Hat Search Engine Optimization you'll learn:
The difference between White Hat and Black Hat SEO
The myths and misconceptions of Search Engine Optimization
How Search Engines work
How to use Keywords and Phrases to increase your rankings
How to create powerful titles and headlines
How to use navigation to spike your profits
The Linking Strategies that will rapidly multiply your traffic
And much more...
Special Bonus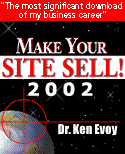 Make Your Site Sell
Immediately coined the "The Bible of selling on the Net" this is a book every Internet Marketer, Webmaster - and literally everyone who sells online should read.
This book is loaded with information - 7 volumes worth!
If you have a great product, and a site that SELLS, and can bring targeted traffic to your site cost-effectively, you *will* succeed. There are *NO* other variables. MYSS! 2002 covers it all.
Get Your Gifts Now!
Just Fill in your Name and eMail address below...